How to Create JAMB Profile for 2021 UTME
Are you preparing for this year JAMB? Do you know you need to create a profile before you can be able to register for the exam? Do you want to know how to create the profile and get the JAMB code? Here are the steps and guidelines for creating a JAMB Profile for the 2021 UMTE below.
Please note that the JAMB UTME 2021 registration commenced since April 8, 2021 and would be ending anything soon as the date fix for the examination will commence from July 3, 2021. So you will need a profile code to activate the registration process and here is the various ways I have outline below for you to create your JAMB Profile
How to Create JAMB Profile for UTME 2021 Examination Using NIN
What we mean by NIN is your current National Identification Number. This is a new identification being issued by the Nigerian government to aid the identification of its citizens across the country and JAMB has adopted this number as one of the criteria needed to sit for its examinations. To register for the examination you will need the NIN to create the JAMB profile and this has been outline below for you to see.
Go to your message box and click on send or create icon. Type NIN, then space, enter your 11 digit NIN number and send to 55019
After sending NIN And Number to 55019, you will get the following message…
Your request has been recieved and is being processed, you will get response shortly.The service will cost you #50
After the message above, wait for your Jamb profile code. You will either get it immediately or after some hours or days. After getting the Profile Code, the next thing is to Purchase an E-PIN.
How to Create JAMB Profile for UTME 2021 Examination Using USSD code
Another way you can used to create your profile code for the examination is by using the USSD handle which is also easy and simple for you to follow and use. Just follow these steps;
* Dial *55019*1*NIN#
Use the USSD Method of Creating Jamb Profile Only if the SMS Method Doesn't work for you.
Invalid Format & Unable To Verify NIN
If you are getting an Invalid Format or Failed to Verify NIN, then the following guide will be of help to you.
Your NIN must be length = 11
Make sure your NIN is correctly linked with your Phone number during the NIN registration.
You can use any SIM Card So long it is registered with your name
Do not use Sim registered with another name
Make sure the NIN Name Matches the name on your SIM Card
Ensure to have N100 or above airtime or credit on your Phone
Make sure you typed the Correct NIN Numbers
How to Create JAMB Profile for UTME 2021 Examination Using Jamb Website
You can also create the JAMB Profile by visiting the JAMB official website by following the steps I have outline below.
Visit the Jamb website using this link
Locate create e-Facility account/login at the top
Click on the create New account/Sign Up
Enter your Email
Select Security Question
Enter your Security Answer
Verify your Email Account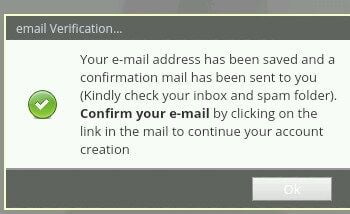 Log in to your email, copy and paste the confirmation code sent to you
Click on the link that Jamb will send to you to continue the registration.
Common JAMB Registration Payment Methods to Obtain ePIN
You can obtain your JAMB PEpin from any of the listed means I have me outline below;
-Participating Banks
-Mobile Money Operators including eTranzact (Paga, Cellulant, Teasy Mobile e.t.c.)
-Registered Microfinance Banks – (Ifesowapo, Regent, FUDMFB, Welfare MFB)
-Online Payment – Remita & Interswitch (Switches)
-POS (Citi-Serve)
-ATM (Interswitch)
-USSD (NIBSS & ERCAS) – for mobile (Internet/online) banking
PAYMENT SELF HELP
If ePIN is not Received or Lost , send a text message from the registered telephone number "UTMEPIN" or "DEPIN" to 55019 for UTME or DE respectively
The ePIN would then be retrieved
After payment…
After successful payment & obtaining ePIN, candidate should proceed to any of the accredited CBT Centres to complete his/her own registration.
JAMB REGISTRATION PROCESS at CBT Centres for UTME 2021
You have to present the ePIN at any JAMB accredited CBT Centre for validation and completion of registration. Candidate is expected to pay not more than N700.00 as Service Charge to the CBT Centre as registration charges.
You then provide the following to complete your registration.
* Provides biodata
* Choice of institutions and programmes
* UTME subjects
* Picture capture (no passport photography
* Biometric capture
* Print Registration Slip using biometric authentication
* Collect reading text & CD
Payment and Registration Flow For UTME 2021
This is simply a summary of how to go about the JAMB registration and Purchase of your sPin.
Use text to create profile from your phone (only one number per candidate)
Receive confirmation code in your phone
Buy form ePIN using the code in your phone
Register with your ePIN at any CBT Centre
How To Avoid SMS Issues While Creating your JAMB Profile
Don't add a comma between NIN & NIN Numbers
Don't add space after your NIN Number
50 Naira will be deducted from your Sim. Make sure you have above N50 Naira airtime on your Mobile phone before sending the SMS.
One Phone number can be used by one candidate only. Don't share the same number with your brother or sister. They should get their own sim and send their own message.
Make sure your phone number is linked with NIN before you send NIN to 55019.
Don't use your dad, mom or brother's phone number.
NEW UPDATES from Jamb;
Joint Admissions and Matriculation Board has announced a new date for the 2021 Unified Tertiary Matriculation Examination.

Registrar of JAMB, Prof Is-haq Oloyede, announced that the examination date has been shifted from June 19 to July 3.

He made the announcement at a press conference on Saturday in Abuja, adding that the deadline for registration has been extended by two weeks.

With this, the registration exercise will now end on May 29.
To start your online JAMB Profile Creation visit the link below;
What's Your Reaction?